GirlCrew launches app as co-founder heads for San Francisco
Irish Independent
GirlCrew, the global network for women to make new friends and engage in professional networking, launches an international app as it targets growth in the US.
Backup firm draws on the Cloud
Irish Examiner
Started from an idea drawn on a cocktail napkin in a Las Vegas bar, three-year old Donegal start-up CloudRanger now has clients in over 20 countries, including the US, Canada and Australia.
10 new start-ups a 'key milestone' for Galway entrepreneurship
Silicon Republic
NDRC at Portershed in Galway, supported by Enterprise Ireland, has welcomed ten new digital start-ups as its inaugural cohort, boosting innovation in the west of Ireland.
Conference to focus on manure management in battle against climate change
Irish Times
More than 250 delegates from across Europe and around the world will gather in Wexford next month to discuss a range of scientific research topics with potentially profound importance for the future environmental performance of Irish agriculture.
Mark Pollock at Enterprise Ireland's Big Ideas 2017
Mark Pollock became the first blind man to race to the South Pole in 2009. Following a fall from a second story window which left him paralyzed, Mark is now focused on fast tracking a cure for paralysis by creating science and technology research collaborations and translating their results to the clinic.
Brexit SME Scorecard
The Enterprise Ireland Brexit SME Scorecard is a free planning tool for Irish exporters to the UK, designed to help you assess your business readiness across six key areas.
Be Prepared Grant
Up to €5,000 is available for Enterprise Ireland client companies with the Be Prepared Grant, designed to help SMEs develop an action plan.
Agrochemicals Market Reports
The global agrochemical market should reach $266.0 billion by 2021 from $213.2 billion in 2016. Check out Enterprise Ireland's Market Research Centre's blog on market reports available to
clients.
Food Works Programme 2017
Interested in developing your food business and learning more about the
Foodworks Programme
? Applications are open for four more weeks!
SaaStock discount code for Enterprise Ireland clients
Enterprise Ireland clients planning to attend SaaStock 2017 can avail of a special discount code banking them 30% off the ticket price! The link below has the discounted code automatically applied.
Export Industry Awards 2017
The Export Industry Awards recognise the remarkable achievements of companies working in the export industry. The High Potential Exporter Award category is open to Enterprise Ireland client companies only - enter now!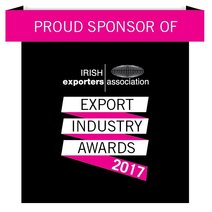 Some of the views expressed in this publication are those of our contributors and do not
necessarily represent the views of Enterprise Ireland.