Extra €30m fund to boost job projects
Irish Independent: Business Minister Heather Humphreys announces €30m in funding for projects that help boost employment in the regions.
Fintech firms must cash in on Frankfurt opportunities
Sunday Independent: It should not be a case of one city or the other, however. Regardless of the impact of Brexit, Frankfurt is too important a financial services hub for Irish fintech companies to overlook.
Fuelling Ambition Roadshow - Cork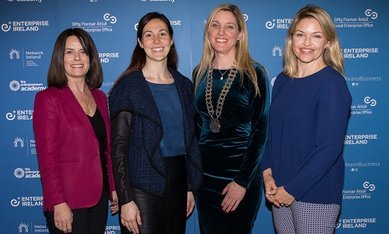 Pictured at the Fuelling Ambition 'Lead and Suceed' Roadshow in Cork (L-R), Rachael James, Enterprise Ireland; Jennifer Hurley, Wild Atlantic Gourmet and the winner of the pitch competition worth €3,000; Karen Fleming, Network Ireland and Helen Smyth, Facebook.
The new Market Discovery Fund


Minister Halligan leads 11 companies on Enterprise Ireland trade visit to The Netherlands and Sweden
The focus of the trade mission was on increasing trade for Irish plastics & packaging and automotive suppliers in markets beyond the UK in preparation for Brexit.
Eighteen companies on Enterprise Ireland trade mission to Italy led by Minister Breen
The medical devices sector and opportunities to increase trade between Ireland and Italy was the key focus of the two-day trade mission.
Brexit - are Irish businesses ready?
The Business - RTÉ Radio 1
According to the UK's Secretary of State for exiting the EU, David Davis, the final trade deal between the two unions is "90% complete". Anne Lanigan, Head of Enterprise Ireland's Brexit Unit joins Richard Curran and guests in studio.
Research remains key to Irish tech entrepreneur pipeline
Irish Times
Nature, nurture and good ideas - research remains key to Irish tech entrepreneur pipeline.
Competitive Start Fund for Graduate Entrepreneurs - now open for applications
'Winning the CSF was a huge achievement for us. It provided us with, not just funding, but the stamp of approval from Enterprise Ireland' - Niall Harty, Harty Nutrition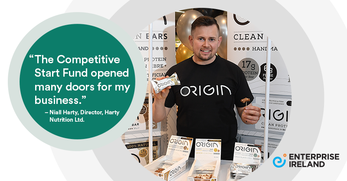 App under development in Ireland aims to silence cyber bullies
Irish Times
Recognising that bigger guns were needed to fight the creep of online hostility, Breda Keena and Paul Tweed co-founded Depublish, a digitally-based service that aims to tackle malicious online content.
US entrepreneur opts for Dublin again as home for new start-up
Irish Times
Dublin-based entrepreneur Brian Norton is back in business with a new venture that has just secured €4 million in funding and invested €1 million in its first partnership.
CitySwifter targeting bus companies with high frequency urban routes
Irish Times
Irish company saw its future in selling technology and not operating bus routes. CitySwifter's dynamic routing tool allows it to identify passenger demand in real time.
Bridging start-ups, academia and industry gives Ireland the edge
Business News Ireland
Regardless of economic ups and downs, successive Irish governments have been committed to investing in science and technology, and the country is now reaping the benefits.
Routes to Growth - Asia Pacific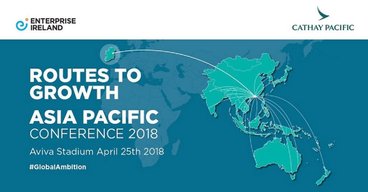 MeetingRoom makes VR conference calls productive in one click
Silicon Republic
Dublin-based MeetingRoom, is on a mission to revamp remote video or conference calls and make them work for businesses.
Inflection Biosciences and RCSI join forces to lead war on breast cancer
Silicon Republic
With a new RCSI partnership, Inflection Biosciences will potentially create a multibillion-euro homegrown Irish company of global renown.
SBIR challenges launch
Enterprise Ireland in partnership with Smart Dublin will launch five Small Business Innovation Research (SBIR) competitions worth €900k in Dublin on the 26th April.
Cormac Spain and Carl Cullen of Roc Protection on RTE's Morning Ireland
RTE
Cormac Spain and Carl Cullen of Roc Protection joined Adam Maguire this morning on RTE's Morning Ireland to talk about their experience of the Student Enterprise Programme.
How Sonru supports clients in the worldwide war for talent #IrishAdvantage
Sonru has pioneered the use of automated, asynchronous video interviewing to help businesses find, select and recruit talent.
Fuelling Ambition Roadshow Limerick, 19 April - Register here


17 Apr 2018: Business Planning Workshop, Dublin
17 Apr 2018: CSF Application Support Day, Dublin
17 Apr 2018: CSF Application Support Day, Cork
17 Apr 2018: CSF Application Support Day, Waterford
18 Apr 2018: Business Planning Workshop, Portlaoise
23 Apr 2018: Closing date for applications for Go Global 4 Growth
25 Apr 2018: Routes to Growth Asia Pacific Conference, Dublin
27 Apr 2018: Master Class in Strategies & Structures for Enterprise Excellence, Limerick
15 May 2018: Agile Innovation Supports Event, Tralee
25 May 2018: Closing date for applications for DataSci Awards
31 May 2018: Futurescope 2018, Dublin
28 & 29 Jun 2018: National Life Sciences and Engineering Expo, Mullingar
Some of the views expressed in this publication are those of our contributors and do not
necessarily represent the views of Enterprise Ireland.