Ireland and UK work together on the winds of change
Sunday Independent: Enterprise Ireland will hold its first Offshore Wind Forum in Dublin on March 21st, to showcase how developers and contractors in the UK offshore wind industry can work with the Irish supply chain to help achieve its ambitious 2030 offshore wind targets.
Prepare for Brexit - supports available
The full list of Brexit supports is now included in our new Brexit brochure available to download here: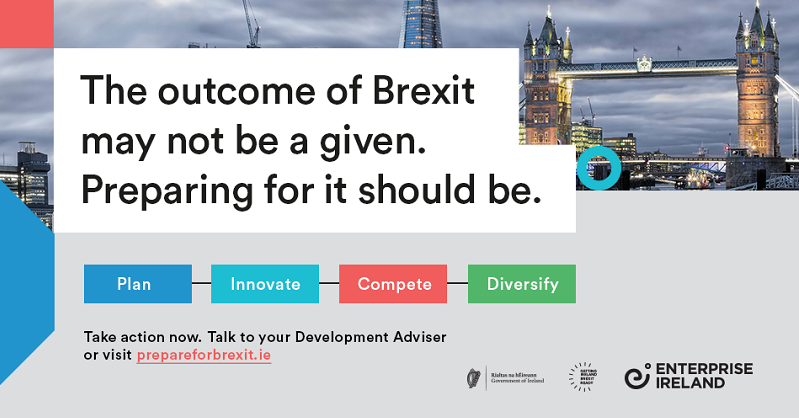 Enteprise Ireland sponsors 'Strictly Business'
This week, Sonya Lennon gives Elite Pilates the Strictly Business treatment - watch it on Wednesday, 7.30pm, RTÉ 1. Missed Episode 5 last week? Catch up on RTÉ Player.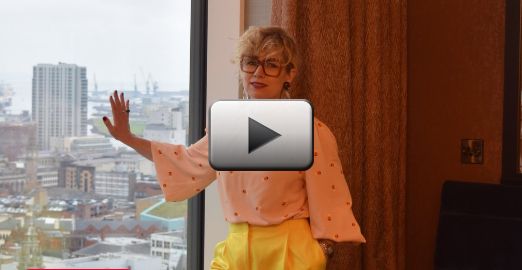 eBay helps small business with e-commerce
RTE Online
One of the world's largest online marketplaces, eBay, has joined forces with Enterprise Ireland and the Design & Crafts Council of Ireland for an initiative that is set to benefit up to 50 Irish SMEs with their e-commerce needs.
ChannelSight raises $10m as it seeks to expand e-commerce offering
Irish Times
Irish e-commerce technology company ChannelSight has raised $10 million (€8.85 million) to further develop its software-as-a-service (SaaS) platform and allow it to expand into more markets.
Property Bridges to lend over €150m for housing projects
Irish Independent
Irish online peer-to-peer lender Property Bridges plans to offer at least €150m in construction development loans over the next three years.
Dublin firm CX Index expands with Canadian deals
Irish Independent
David Heneghan, co-founder and CEO of CX Index, said: "We are very pleased to announce our expansion into the Canadian market with the addition of three significant customers. This is just the beginning of the journey in the Canadian market for us."
My mum, the food superhero
Irish Independent
Aileen's second book, The Baby-Friendly Family Cookbook, has just been published, with over 150 fuss-free recipes designed for the entire family.
AgTech conference highlights local and global opportunities, as Herdwatch acquires Bullmatch.ie
Irish Examiner
Cattle registry and monitoring app Herdwatch has just acquired Bullmatch.ie, which optimises matches between bulls and heifers.
Laying blocks for rapid success in building semi-detached homes
Irish Examiner
Taking a Lego-style approach to construction, Cork building technology company Glavloc has developed a rapid-build system it says can be used to complete an average-sized three-bed semi in just six to eight weeks.
New blog post for clients from Enterprise Ireland's Market Research Centre
Discover more on the evolution of autonomous vehicles, the future for premium performance vehicles and disruptive new technologies in this industry. Check out the Market Research Centre's new blog on the research reports available to Enterprise Ireland clients.
Intel and Irish supercomputer group aim for a first in quantum computing
Silicon Republic
The Irish Centre for High-End Computing (ICHEC) has received a €150,000 cash injection from Intel and Enterprise Ireland to work on a new collaborative quantum computing project.
Mobile World Congress delivers deals for Irish companies
Silicon Republic
WATCH: MWC does more than simply provide a stage for Irish tech companies – it also generates business. Of the 22 Irish companies that attended this year, five announced new partnership deals at the event.
Ireland's #1 innovation event - FutureScope 2019
Explore emerging technologies and the business opportunities arising at FutureScope on 28th March 2019, in The Convention Centre Dublin. Enterprise Ireland client companies can register for tickets until 21st March here:
Med in Ireland 2019 – Opportunities for Medtech & Healthcare companies
Med in Ireland, Enterprise Ireland's largest medical technologies inward buyer event, returns to Dublin's RDS on 10th October 2019, and early bird registration is now open until 18th March. Med in Ireland is an invite-only event that showcases the entire spectrum of the Irish medtech sector and attracts significant interest from the international medtech and healthcare community, with Med in Ireland 2017 attracting 300 international buyers to Dublin.



13 March 2019: Managing Currency Risk, Webinar
14 March 2019: Essentials of Exporting, Monaghan
14 March 2019: Brexit Advisory Clinic, Dublin
20 March 2019: Agile Innovation Supports Event, Athlone
20 March 2019: Brexit Advisory Clinic, Portlaoise
27 March 2019: Brexit and Managing the Working Capital Challenge, Webinar
28 March 2019: FutureScope, Dublin
02 April 2019: Exporter Development Workshop, Galway
10 April 2019: IgniteX Dublin Tech Summit
02 May 2019: Exporter Development Workshop, Monaghan
22 May 2019: Enterprise Excellence Ireland, Dublin
Some of the views expressed in this publication are those of our contributors and do not
necessarily represent the views of Enterprise Ireland.