Drone patrols being considered to track illegal dumping in Dublin
RTE
A total of €600,000 in funding is available for technological solutions to address problems including illegal dumping and flooding as part the SBIR joint initiative between Dublin City Council and Enterprise Ireland.
Rubicoin takes top prize at Eir Spider awards
Irish Times
Fintech start-up Rubicoin has taken the top prize at this year's Eir Spider awards for their product 'Invest', an app designed to make it easy for people to start investing from their smartphone.
EU approves Enterprise Ireland scheme for struggling SMEs
RTE
European Union competition regulators said they have approved a €10m Irish support scheme for the restructuring of small and medium-sized companies.
Tracking device from Irishman's firm being used worldwide
Irish Times
Appraisee wins first-ever NDRC at Portershed Investor Showcase
NDRC
Appraisee has won NDRC's first-ever Investor Showcase at PorterShed, seeing off seven competitors to scoop €30,000 in finishing investment.
No money? Just flag your taxi
Business Plus
A new taxi app called Flag will allow a passenger to travel and pay the taxi fare without a phone, cash or bank card, while ensuring the driver still gets paid.
Waterford welcomes launch of NDRC@ArcLabs accelerator programme
Silicon Republic
The accelerator is based in ArcLabs at Waterford Institute of Technology (WIT), and is open to applications from teams or individuals, both in Ireland or overseas, in all technology sectors.
Nigeria the number one destination for Irish exports out to Africa
Irish Independent
Irish trade with Africa is increasing. Businesses here sent €23m in exports to Nigeria during the month, according to figures from the Central Statistics Office.
SureWash Uses Computer Vision to Teach Proper Hand Washing Techniques
While attending Med in Ireland, US online publication MedGadget, tried out SureWash's innovative product which teaches and verifies correct hand washing techniques for clinicians, patients and hospital visitors.
Prolego Scientific claims first prize as UCD Start-up of the Year
Silicon Republic
Prolego Scientific, has walked away with University College Dublin's Start-up of the Year Award and a €20,000 prize, as well as winning the overall UCD VentureLaunch Accelerator Programme.
Dublin BIC Innovate Programme Showcase 2017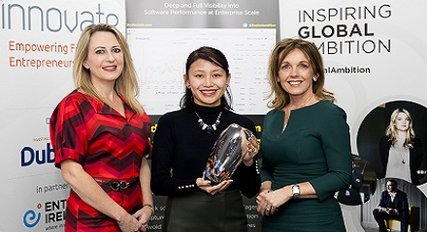 BeeInstant was the overall winner at the showcase which concluded a 12-week accelerator programme as part of Enterprise Ireland's Female Entrepreneurship Competitive Start Fund.
Clinical Innovation Award 2018
Cleveland Clinic and Enterprise Ireland are recognising the importance of clinical innovation by presenting the Clinical Innovation Award 2018. Application closing date is 20 December.
The Marie Sklodowska Curie Career-FIT
Career-FIT, the postdoctoral fellowship programme, is open for applicants. A key feature of Career-FIT is the opportunity for experienced researchers from outside Ireland to develop their careers in market focused applied research.
Brexit Advisory Clinic, Tralee, 5th December 2017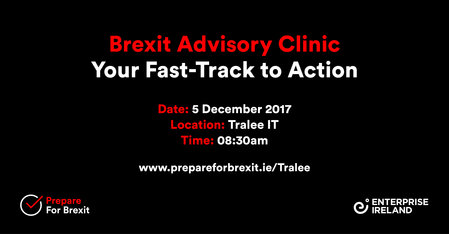 Some of the views expressed in this publication are those of our contributors and do not
necessarily represent the views of Enterprise Ireland.