Enterprise Ireland's Start-up Showcase 2017
Over 400 entrepreneurs, investors and stakeholders gathered at Dublin Castle last Thursday for Enterprise Ireland's Start-Up Showcase. Last year, Enterprise Ireland invested €32 million in Irish start-ups and supported 229 start-up companies.
"Running Lean" author at Start-up Showcase 2017
Ash Maurya, author of the international bestseller "Running Lean" and the creator of the one-page business modelling tool, "Lean Canvas", was the featured key-note speaker at Enterprise Ireland's Start-up Showcase 2017.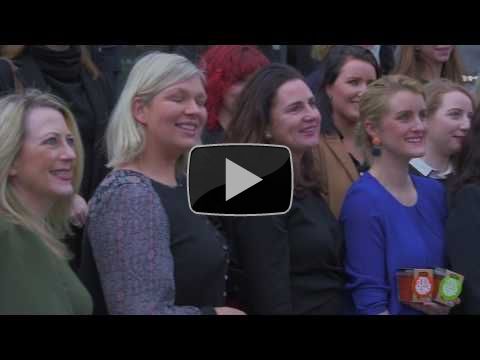 Irish-Polish collaboration a springboard to other markets
Sunday Independent: Last week, the Taoiseach visited Warsaw, where he was a keynote speaker at the first ever Irish Polish Innovation Forum. He used the opportunity to urge the promotion of trade between Ireland and Poland.



Enterprise Ireland funding for start-ups at a record high
Irish Times
Enterprise Ireland invested €32 million in 229 start-ups last year. Over a quarter of the firms backed were female-led businesses, with more than half the companies situated outside of Dublin.
Frontline Ventures to offer €60m fund to software firms
Irish Times
Venture-capital firm

Frontline Ventures

is set to offer €60 million in funding to early-stage business-to-business software companies.
Enthusiasm the common theme at showcase for Irish start-ups
Irish Independent
Some of Ireland's brightest up-and-coming companies gathered in Dublin last week to mark Enterprise Ireland's 2017 Start-up Showcase.
Kenny lauds Ireland's Polish for playing part in recovery
Irish Times
Taoiseach Enda Kenny has praised Ireland's Polish community for "massively contributing" to the country's recovery.
HBAN introduced 200 start-ups to investors in 2016
Irish Times
HBAN is a joint venture between

Enterprise Ireland

and Intertrade Ireland. The organisation acts as an introduction service between start-ups and investors, but does not get involved in the investments or take commissions or fees from completed investments.
JB Roche's "Irish tent" to the rescue in Swiss airline emergency
Randy Bounds
An Irish produced inflatable on-wing engine hanger 'designed to withstand the toughest environments' certainly lived up to its reputation last week. Described as a 'godsend', the shelter was used by a Swiss airline in an emergency landing in northeast Canada.
En route from Zurich to Los Angeles, Swiss Flight LX40 was forced to make an emergency landing in remote Canada last week, due to engine failure. The 777-300ER touched down safely in Iqaluit Airport, located in the remote Nunavut region of Canada.

Amidst freezing conditions, the logistical challenge of transporting passengers to their destination - alongside a new engine for the aircraft - began. Official sources state that Canada Border Services Agency (CBSA) officers at this airport have only small general aviation aircraft capacity, for more than 15 passengers. The large Boeing 777-300 can carry up to 550 passengers.



As a response to the unplanned landing, Swiss airline dispatched a flight from JFK, New York to pick up the passengers. A new GE Aviation Engine and 12 GE technicians departed Zurich on an Antonov An 124 aircraft - facing high winds,

-40F wind chill and no hanger large enough for the 777. This is where Co. Cork based JB Roche, an Enterprise Ireland client company, stepped in: their inflatable on-wing engine hanger was aboard the Antonov 124. Designed to withstand extreme environments, the hangar has been thus described as a "game changer that performed superbly and allowed our technicians to perform what would otherwise have been impossible." Take a look at the incident documented her

e

.




New product to help airports prevent delays
Irish Times
Tosca Solutions' Operational Daily Journal will help mitigate the number of accidents and substantially reduce operational delays.
Irish team lands €4.5m rocket launcher contract
Silicon Republic
Worth €4.5m, the Dublin arm of engineering company Curtiss-Wright has landed the largest ever contract related to European Space Agency (ESA) activities.
20 jobs being created at new on-demand courier service Zendfast in Dublin
Silicon Republic
A new Irish on-demand courier service called Zendfast has been launched, with plans to create 20 jobs in Dublin over the next 3 years.
Doing business in China: Meet face to face and mind your Ps and Qs
Irish Times
When

Ciara Donlon

set up

Theya Healthcare

in 2014 to produce specialist post-breast surgery underwear for women, she needed two things: someone to turn her ideas into finished designs, and someone to make her a set of samples.
Almost 60 extra staff for Enterprise Ireland and IDA to deal with Brexit
Irish Times
€2.75 million had been allocated for extra staff ahead of the UK's exit from the EU.
ACT unveils new €15m AIB start-up accelerator fund
Silicon Republic
ACT Venture Capital has announced the new AIB Start-up Accelerator Fund 2, which aims to back 25 Irish companies over the next four years.
New €20m venture capital fund emerges from Ireland's south-east
Silicon Republic
TSSG chairman and FeedHenry founder Barry Downes is to lead a new €20m venture capital fund Suir Valley Ventures to focus on IoT, fintech and augmented reality.
Minister Kyne welcomes sustained job growth by Geoscience Ireland companies
Geoscience
A survey of the 28 companies comprising the Geoscience Ireland (GI) business cluster has shown that 179 new jobs were created by GI companies in 2016. This matches the 178 new jobs created in 2015.
Tweet of the Week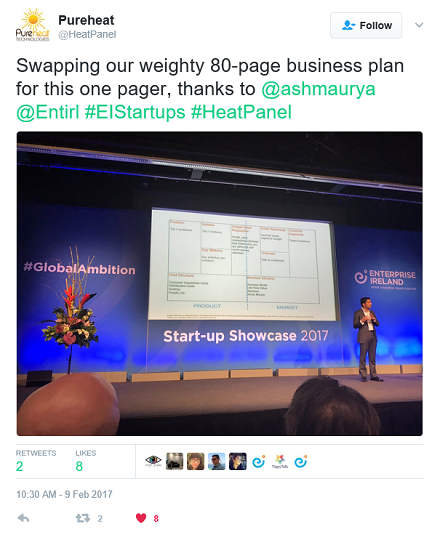 Graduates 4 International Growth
Enterprise Ireland
Enterprise Ireland's Graduates 4 International Growth initiative connects internationally trading companies with capable graduates. Closing date for applications is 3pm, 24th February 2017.


Some of the views expressed in this publication are those of our contributors and do not
necessarily represent the views of Enterprise Ireland.