Start-ups received €23m in support from Enterprise Ireland in 2018
Irish Times
Enterprise Ireland invested €23 million in supporting early stage companies last year, with 132 start-ups benefiting from the agency's help.
Government urges businesses to step up Brexit preparations
RTE Online
The Government is urging businesses to take concrete steps to avoid any disruption that might be caused by Brexit to the day-to-day running of their enterprises.
Bigger, better and brighter businesses
Sunday Business Post
Enterprise Ireland's approach to preparing Irish companies to respond to the challenges and uncertainty has been to adopt a 'no regret planning' stance.
Venture capital group Finch to invest €20m in Irish fintech companies
Irish Times
Finch Capital, an early-stage venture capital firm with offices in Amsterdam, London and Singapore, has confirmed plans to invest up to €20 million in Irish fintech companies.
Dublin's Guinness Enterprise Centre set for €10m expansion
Irish Times
The Guinness Enterprise Centre (GEC), a working space located in the Liberties area of Dublin, is embarking on a major €10 million expansion that will almost double capacity.
Customs: Trading with a Third Country
Get expert advice and insights into trading with a third country and what this means in practical terms for business at our webinar with Assistant Principal Officer of the Customs Policy Branch in Revenue, Celine O'Neill.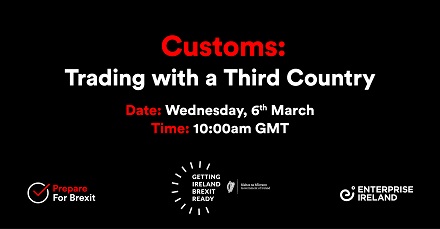 Government says 9,000 financial services jobs created since 2015
Irish Times
The Government has said 9,000 jobs have been created in the international financial services (IFS) sector since 2015, leaving it within reach of a five-year target outlined before the Brexit referendum took place.
NDRC at PorterShed calls for more start-ups to awaken in the west
Silicon Republic
NDRC at PorterShed in Galway is looking for some outstanding early stage start-ups to join its accelerator programme.
Applications are open until the end of March, with NDRC at PorterShed's third accelerator beginning in May this year.
Grocery delivery start-up Buymie has secured fresh funding from retail and rugby stars
Fora
Grocery delivery start-up Buymie has secured a fresh wave of funding from new angel investors, including several Connacht Rugby players and its existing backers.
Propeller Shannon accelerator to boost growth in the Shannon region
Irish Tech News
Propeller Shannon, Ireland's only start-up programme for companies in the aviation and travel tech sectors, is pleased to announce the arrival of its second cohort of firms.
Nunaia joins Bobby Kerr on Newstalk
Newstalk
Skincare is a busy market place but Nunaia has come up with a range that may have managed to stand out from the crowd.
SFI Research Centre hosted EU Industry Day session on advanced manufacturing
Earlier this month, I-Form, the SFI Research Centre for Advanced Manufacturing, hosted a thought-provoking session on 3D printing in manufacturing at the 'EU Industry Days' event at The Egg in Brussels.


Some of the views expressed in this publication are those of our contributors and do not
necessarily represent the views of Enterprise Ireland.