Enterprise Ireland increases international and domestic export focused trade events by 50%
Enterprise Ireland is set to undertake over 200 international and domestic trade events in 2018 to accelerate the number of client companies diversifying into new markets.
Enterprise Ireland releases details of roadshow for women entrepreneurs
Irish Times
Enterprise Ireland and Network Ireland have announced details of their annual Fuelling Ambition Roadshow for female entrepreneurs, which has a prize package worth more than €3,000 at each event.
Government to support €160m investment in Glanbia milk plant creating 86 jobs
Irish Independent
The Government has confirmed Enterprise Ireland support towards Glanbia Ireland's plans to invest over €160m in its site at Belview, Co Kilkenny.
Irish start-up GirlCrew raises $1m in funding for US expansion
Irish Times
Irish start-up GirlCrew has raised almost $1 million in a seed funding round as the company plans expansion across the United States.
Class of 2017: 144 New Frontiers graduates gather for annual networking event
On Thursday, Minister for Business, Enterprise and Innovation Heather Humphreys TD welcomed 144 graduates of the New Frontiers business development programme to a national networking event organised by Enterprise Ireland.
The Investors: 19 women bridging the gender funding gap
Silicon Republic
Diversity is a good investment, and this group know it. These are the people helping more women to reach their funding goals.
Can Irish women tech founders surpass €100m in funding in 2018?
Silicon Republic
Campaign begins to enable Irish women founders surpass €100m venture capital target.
International Women's Day 2018: 'It's time to look back at what we've achieved'
Irish Times
"We live in a culture where women are trying to make their voices fit into a space that is not constructed for the female voice.That's the conversation we need to have; changing the culture of the public space."
Ireland is ninth biggest source of inward FDI to the US
Irish Times
Close to 800 Irish companies have operations in the United States, employing more than 100,000 people, according to new figures.
Competitive Start Fund - Regional Entrepreneurship Closing date: 13th March
The Competitive Start Fund (CSF) for regional start-ups will award up to €50,000 to up to ten entrepreneurs. Closing date for applications is 13th March 2018.
Medtech firm Incereb secures €50k investment for neonatal devices
Irish Independent
Dublin medtech firm Incereb has secured a €50,000 cash injection from an individual angel investor - just two days after the company's pitch.
Nüdest yoghurt blends going down a treat
Business Plus
Launched in 2016, Fiona Keane's start-up sells healthy yoghurt in squeeze packs of Greek-style yoghurt.
Enterprise Ireland-backed Zutec software firm nears Nordic flotation
Irish Times
Irish software firm Zutec Holdings, is in the final stages of a 57.5 million Swedish krona (€5.7 million) share sale before becoming the first Irish company to list in Sweden this month.
Student Entrepreneur Awards 2018
Calling all third-level students! If you have an idea with real commercial potential then enter the Student Entrepreneur Awards for your chance to win up to €35,000 in cash prizes.
Lender Growcap lines up €30m for SME deals
Sunday Independent
Non-bank lender Growcap Finance is aiming to inject as much as €30m into SMEs over the next 12-18 months.
Irish tech firm set to make IPO vision a reality
Sunday Independent
This week Waterford-based Immersive VR Education will become Ireland's newest listed company.
Prepare for Brexit - Cootehill, March 22nd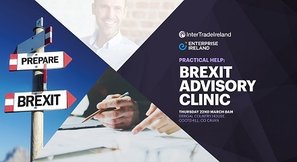 Popertee can virtually help brands make a physical impact
Silicon Republic
Silicon Republic's Start-up of the Week is Popertee, a platform that connects brands with vacant spaces for short-term retail and marketing campaigns.
Tánaiste travels to China for St Patrick's Day
Tánaiste and Minister for Foreign Affairs Simon Coveney visits China as part of St Patrick's Day celebrations.
The National Startup Awards
Today FM
Stephen Dillon, Founder of Startups.ie joined Conall on the Sunday Business Show this week to talk about the National Startup Awards.
3,760 new jobs created in businesses supported by the Local Enterprise Offices in 2017
Enterprise Ireland
Minister Heather Humphreys and Minister Pat Breen welcome 2017 employment and performance figures from Local Enterprise Offices, as they meet start-ups and small business owners during 'Local Enterprise Week'
Enterprise Ireland International Selling Programme
Looking to give your business a competitive edge in export markets and reach your full sales potential? Apply for Enterprise Ireland's world class International Selling Programme by 16th March.
The new Agile Innovation Fund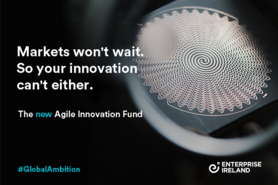 Some of the views expressed in this publication are those of our contributors and do not
necessarily represent the views of Enterprise Ireland.