Irish firm developing self-driving car tech sold in multimillion euro deal
Irish Times
SensL Technologies, which also develops products for medical, industrial and consumer markets, has been bought by On Semiconductor.
15 super start-ups from Limerick to watch
Silicon Republic
According to the most recent regional numbers from TechIreland, the Limerick area has 63 indigenous tech companies, out of which 12 have women founders.
Siobhán Talbot named 'Irish Times' Business Person of the Year
Irish Times
Glanbia chief executive Siobhán Talbot has been named The Irish Times Business Person of the Year for 2018 at an awards ceremony held in Dublin's Mansion House on Wednesday.
Connected car technology may be big boost for Irish jobs
Irish Independent
The imminent era of connected car technology and autonomous vehicles holds out the prospect of major business for Ireland, it has been claimed.
Competitive Start Fund for Female Entrepreneurs - closing date is 15th May
The €1,000,000 Competitive Start Fund for female entrepreneurs will close tomorrow at 3pm.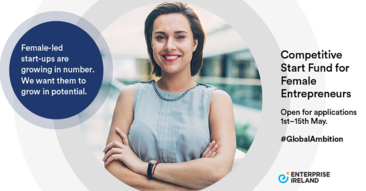 Pernod Ricard-owned Irish Distillers acquire craft beer producer Eight Degrees Brewing
Irish Independent
Pernod Ricard-owned Irish Distillers has acquired Cork-based Eight Degrees Brewing, a craft beer producer whose brands include Sunburnt Irish Red Ale. It's the first ever brewer within the Pernod Ricard stable.
KM Medical scores with Sports Surgery Clinic partnership
Silicon Republic
Cork start-up implements a groundbreaking system for sports surgery that could have a wider impact across the healthcare sector.
Enterprise Ireland's SBIR launches 5 challenges for SMEs with Smart Dublin
Dublin City Council, Fingal Council, Waterford Council, Dun Laoghaire Rathdown Council, and Belfast City Council are seeking solutions for IoT networks, Bathing Water Quality, Smart Mobility Hubs, Last Mile Delivery - the Delivery of Goods, and Citizen Engagement. Read more for details on each Challenge and for links to each Invitation to Tender (ITT).
'The internet is where kids live': How one startup is trying to keep children safe online
Fora.ie
The €100 iKydz device can help parents keep an eye on children's use of the internet while not restricting their access to information, education and communications with friends.
Fraudsters forced telecoms chief to come up with conference call answers
Irish Independent
When his conference call network was hacked, 247 Meeting founder Gavan Doherty developed an algorithm to prevent group conference calls being hacked.
How partnering with the best multinationals helped make construction firm Ardmac world class #IrishAdvantage
After spending over four decades building a reputation for meeting and exceeding client expectations as specialists in construction, Ardmac remains far more focused on the future than on the past.
Voice move is child's play for firm
Breaking News
Following the release of innovative voice technology software, Dublin company SoapBox Labs is now engaging with toy and robot makers, game and app developers and educational technology companies across the globe.
Start-up access tickets available for FutureScope 2018
The leading tech event is supported by Enterprise Ireland and is dedicated to creating collaboration and new business opportunities for start-ups, multinationals, innovative businesses and the research community. Enterprise Ireland has made available a discounted start-up access ticket to client companies.
A note from Minister Pat Breen TD on GDPR:
As you will be aware, the General Data Protection Regulation (GDPR) comes into law on 25th May. There has been a lot of debate on what the GDPR will mean for enterprises and I am particularly interested to ensure that Irish businesses are aware of their obligations.
I have put together a short information note on the GDPR outlining briefly what it means and what businesses need to do to prepare. Please also have a look at the below link to the Data Protection Commissioners GDPR and You guide.
Pat Breen TD


Some of the views expressed in this publication are those of our contributors and do not
necessarily represent the views of Enterprise Ireland.