Selfies before Breakfast
The Dublin Brexit Breakfast Roadshow MC Gavin Duffy takes a selfie with Enterprise Ireland's Anne Lanigan and the panel of speakers, including Michael Fitzgerald from Abtran, Andrea Cawley from Automatic Plastics, Justin Lawless from Intact Software and Siobhan Gannon from Irish Dog Foods. The Dublin event took place last week at the Helix Theatre.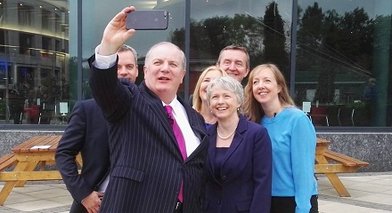 Show, not tell, to make your voice heard in the States
Sunday Independent: In an increasingly competitive business landscape, Irish companies that want to stay ahead of the curve need to look further afield for new opportunities. With a common language and diverse opportunities, the United States is a natural next step.



Spokes women turn wheels of fortune
Irish Times
Accenture Leaders of Tomorrow winners are sisters Ailbhe and Izzy Keane, co-founders of Izzy Wheels, which offers customised spoke guards for wheelchair users.
Tech wars: Digital Hub fights back against rise of Silicon Docks
Irish Times
Hundreds of companies have passed through the doors of Dublin's Digital Hub since it was established in 2003, with household names such as

Amazon

and

Etsy

among them.
Live performances strongly influence impressions during presentations
Irish Times
Public engagement, whether in art, science or business, is always a matter of confidence and performance.
Irish researchers are nabbing €2.7m per week in H2020 funding
Silicon Republic
Ireland is right on track to hit its Horizon 2020 funding target, with €424m now secured through the science initiative.
Irish start-up funding group wins European accolade
Irish Independent
HBAN, the all-island group responsible for the promotion of business angel investment in Ireland, has won the best Business Angel Week award at the European Business Angel Awards.
Amidst uncertainty, Enterprise Ireland urges Irish SMEs to start their Brexit plans
Silicon Republic
Brexit is a certainty, though what exactly that will entail is not. But that's no excuse for Irish businesses not to be prepared.
New app aims to harness Irish tradition of 'playing matchmaker'
Irish Examiner
The age old art and tradition of Irish matchmaking has moved into the digital age thanks to a new app from an innovative Dublin woman.
Sky the limit for drone firm
Irish Examiner
For the world's first company to develop software which can turn a commercial drone into a search and rescue platform, the sky is the limit in terms of opportunities.


Some of the views expressed in this publication are those of our contributors and do not
necessarily represent the views of Enterprise Ireland.