€1 Million For Female Entrepreneurs
Today FM
Enterprise Ireland's Rachael James and SalesOptimize's Liz Fulham joined Conall O Móráin on the Today FM Sunday Business Show at the weekend to talk about the €1 million Competitive Start Fund for female entrepreneurs.
Minister says Government committed to growing Irish exports to UK
Irish Times
The Government is committed to "consolidating and growing Irish exports to the UK now and into the future", Minister Heather Humphreys said ahead of the Enterprise Ireland trade mission to Manchester.
Over one million people now in employment outside Dublin
Irish Examiner
Minister Heather Humphreys announced that 1.5 million people are now in employment outside of Dublin as she announced a second call for funding proposals for regionally-based projects, under a €60m Regional Enterprise Development Fund (REDF).
Mentors help Irish start-ups take a fresh look at business
Irish Times
Good mentors will challenge your assumptions and make your business stronger in the process. It's the reason so many start-ups hand over sizeable stakes in their businesses to experienced business people prepared to lend a hand.
Fuelling Ambition Roadshow, Limerick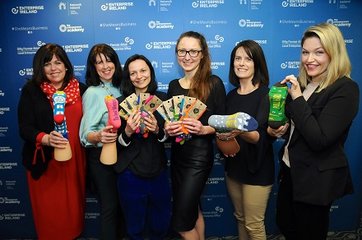 Pictured at the Fuelling Ambition 'Lead and Suceed' Roadshow in Cork (L-R), Valerie O'Gorman, Entrepreneurs Academy, Valerie Murphy, Valerie's Breast Care & Network Ireland Limerick President, winners of the €3,000 pitch competition, Alehsandra Kieldanowicz and Joanna Zalech, Irishsocksciety, Rachael James, Enterprise Ireland with Helen Smyth, Facebook Ireland.
New oil tickles the taste buds of top chefs
Irish Times
Collar of Gold may be new to the market but it has already caught the attention of chefs in a number of fine-dining establishments.
SME has a nose for success
Irish Examiner
Dublin start-up Nasal Medical has timed the retail launch of an innovative new allergy nasal filter to coincide with the arrival of the allergy season.
Patricia Scanlon explains why she is building speech technology for kids
Silicon Republic
Dr Patricia Scanlon, founder and CEO of Soapbox Labs, shares her entrepreneurial journey and the opportunity she spotted in speech technology for children.
GloFox founder wins Ireland's Best Young Entrepreneur award
RTE
A former Connacht rugby player has been named Ireland's Best Young Entrepreneur for 2018 - a competition run by the State's Local Enterprise Offices.

Galway start-up Kite Medical secures €1.5m in funding
Silicon Republic
NUI Galway BioInnovate programme spin-out Kite Medical has closed a €1.5m investment round. The medtech company is developing a novel device that offers a pain-free, non-invasive means of detecting kidney reflux in children.
SalesOptimize raises €1.1m from Elkstone and Enterprise Ireland
Business Plus
SalesOptimize, an Irish sales leads company that compiles lists of online vendors for merchants, has closed a €1.1m fundraiser with Elkstone Partners and Enterprise Ireland.
Fuelling Ambition Roadshow Roscommon, 1 May - Register here
New Frontiers Showcase
Irish Tech News
Thirteen entrepreneurs, who have completed the Enterprise Ireland New Frontiers Programme in Cork Institute of Technology (CIT), will showcase their business ideas in the Millennium Hall, Cork.
Galway calling: NDRC at PorterShed accelerator to back 10 start-ups
Silicon Republic
Early-stage tech start-ups are being encouraged to vie for 10 places on the latest NDRC at PorterShed accelerator in Galway. The accelerator is a joint initiative between the NDRC, Galway City Innovation District and Enterprise Ireland.
How one Irish company delivers world-class food production solutions #IrishAdvantage
From its base in County Sligo in the west of Ireland, SF Engineering designs, manufactures and installs high-quality food production lines for customers around the world.
National Life Sciences and Engineering Expo 2018
Taking place on the 28th & 29th of June, the National Life Sciences and Engineering Expo 2018 is orientated around indigenous manufacturing companies and is designed to showcase Irish manufacturing excellence.
Competitive Start Fund for Graduate Entrepreneurs - closing date for applications April 24th
Founder of Izzy Wheels, Ailbhe Keane, knew she had to take advantage of the opportunities coming her way, so she applied for CSF funding.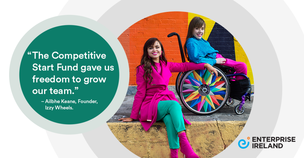 Some of the views expressed in this publication are those of our contributors and do not
necessarily represent the views of Enterprise Ireland.